5 Best Cryptocurrency To Buy At Low Prices August 2021 Week 4
The cryptocurrency market is consolidating after its rise over the past couple of weeks. Its total value remains at $2.2 trillion, having stood at $1.9 trillion two weeks ago and $1.4 trillion last month. This represents increases of 15.8% and 57%, respectively, with certain coins rising by even bigger percentages. However, while most of the major coins have become more expensive recently, it's still possible to obtain many rising currencies on the cheap. As such, we've picked our 5 best cryptocurrency to buy at low prices. This predominantly covers coins under $100.
5 Best Cryptocurrency To Buy At Low Prices
1. Avalanche (AVAX)
Avalanche (AVAX) is the best-performing top-50 cryptocurrency right now. It may be down by 2.4% in the past 24 hours, but at $47.88, it has risen by 148.4% in the past week. It's also 197.7% up in the previous fortnight and up by 329.1% over the last month.
AVAX has risen so much for a number of reasons. For one, Avalanche announced the launch of Avalanche Rush on August 18, around the time AVAX's rise became parabolic. This is a liquidity mining incentive programme, rewarding users with AVAX for providing liquidity. Avalanche launched it in collaboration with Aave and Curve, ensuring that its DeFi ecosystem will grow healthily in the coming months, as more dApps join it.
Experience the power of #Avalanche. Welcome to #AvalancheRush, the $180M liquidity mining incentive program in collaboration with leading DeFi dapps–both on and off Avalanche– starting with @aaveaave and @curvefinance. And, this is just Phase 1! https://t.co/YGrrVB7Uqc

— Avalanche (@avalancheavax) August 18, 2021
Three weeks previously, Avalanche announced the Avalanche Bridge. This lets users transfer their assets between Avalanche and Ethereum, providing a faster, cheaper experience than the previous bridge. As the tweet below states, it has already scaled to transfer more than $100 million tokens per day.
The Avalanche Bridge (AB) launched just 3 weeks ago.

Today, AB officially transferred over $100M in tokens to and from Ethereum.

Interested in using high-performance DeFi apps, with low transaction fees? Transfer your assets, and try #Avalanche DeFi! https://t.co/UAY69mSUgW pic.twitter.com/FrN69Ev7pA

— Avalanche (@avalancheavax) August 19, 2021
These two factors account for why investors have flocked to AVAX over the past week or so. It also helps that AVAX's monetary system sees the burning of transaction fees (paid in AVAX). Combined with a capped supply of 720 million, this suggests it may become deflationary.
2. Solana (SOL)
Solana (SOL) is another high-performing coin that remains cheap despite its recent successes. It currently stands at $78, up by 5.8% over 24 hours. This also represents a 25% rise in the past week, and an eye-popping 100% rise over the last two weeks. If that weren't impressive, SOL has also climbed by 172.9% in the last month and by 2,242.7% over the past year.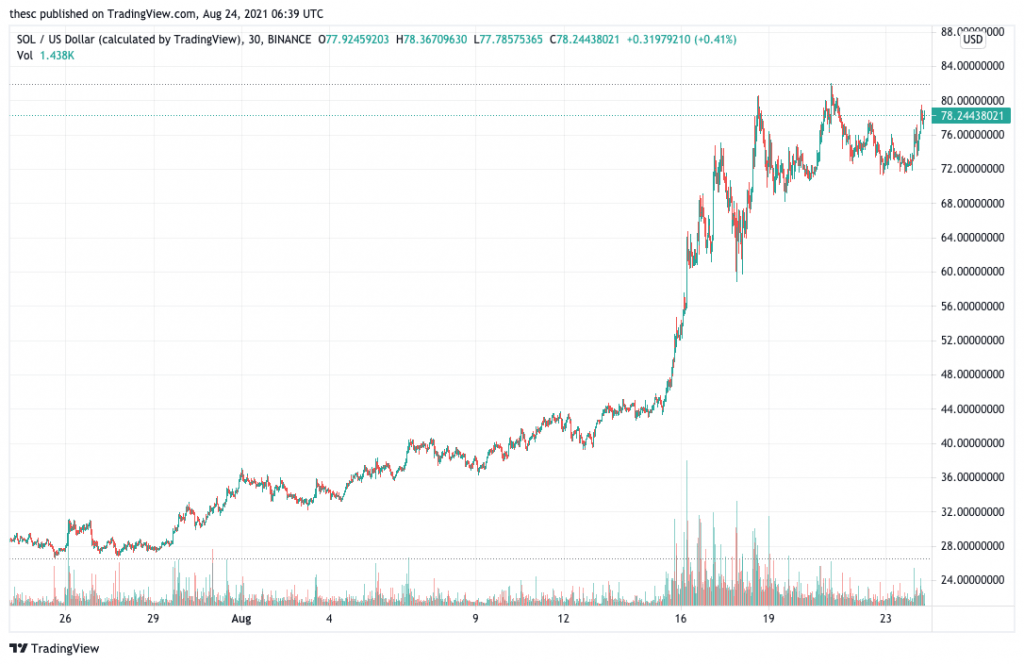 SOL set its all-time high as recently as three days ago, hitting $81. There are numerous reasons to believe it could pass this figure in the coming weeks.
It's still riding the wave created by the rollout of the Wormhole protocol. Completed on August 9, this lets users transfers assets between Solana and a range of other blockchains, including Ethereum and Binance Smart Chain. This has greatly expanded Solana's DeFi ecosystem, while also increasing interest in the platform.
1/Today we're incredibly excited to announce Wormhole: a generic cross-chain messaging protocol. Wormhole will launch with support for the thriving @Ethereum, @Solana, @Terra_money, @binancechain ecosystems. https://t.co/pEKdeOW821

— Wormhole (@wormholecrypto) August 9, 2021
More generally, Solana has benefitted from increased use and various pieces of good news. It hosted the Degenerate Ape Academy on its Solanart NFT platform on August 16, selling over 7,000 pieces of art to date and also passing 200,000 SOL in total volume.
Our top collection, @DegenApeAcademy, just broke 200000 $SOL in total volume! ($14,512,000)

With a total of 7439 sales, the average price is 27 SOL and current floor is 13 SOL!

Also, Solanart front page got updated today to give more exposure to the top #Solana NFT collections pic.twitter.com/CLC7tFqzmj

— Solanart (@SolanartNFT) August 23, 2021
Decentralised exchange (DEX) Mango Markets — which is based on Solana — also successfully raised $70 million on August 12. If nothing else, this indicates that there's a healthy amount of interest in Solana, and that it's set to grow in the near future. This is why SOL is one of our 5 best cryptocurrency to buy at low prices.
Congratulations to the @mangomarkets team on their $70m raise! pic.twitter.com/DkUQORoQVP

— Solana (@solana) August 12, 2021
3. Cardano (ADA)
ADA is another coin that has been enjoying a better-than-average time as of late. It broke its all-time high only 9 hours ago (as of writing), reaching $2.95. Despite falling by 2% since then, it still stands at $2.90. This is a 3.5% rise over the past 24 hours, and a 39.5% increase over the past week. More impressively, ADA is also up by 96.3% in the previous fortnight and by 135.7% in the last month.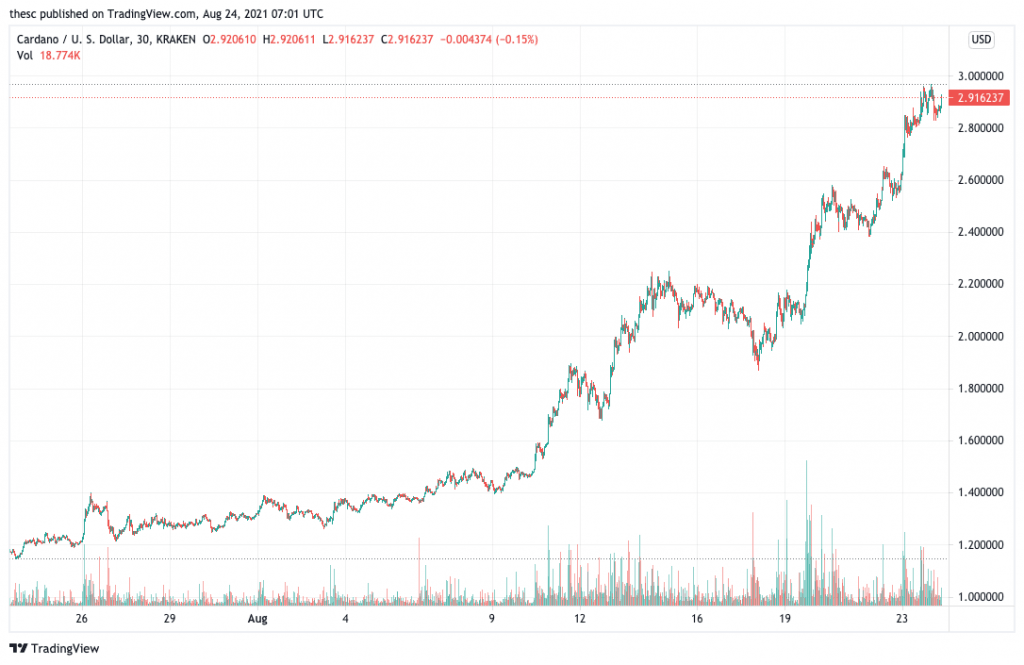 Interest in ADA has peaked with the imminent arrival of smart contracts on Cardano. These will enable Cardano to host its own native decentralized applications, paving the way for a full-blown DeFi ecosystem.
Smart contracts were due to roll out in August, but Input Output Hong Kong (which oversees development of Cardano) has recently said they'll go live on September 12.
#Cardano #smartcontracts are coming…

We're on track to meet the projected HF dates for both testnet & mainnet #Alonzo upgrade, as Nigel outlined in last week update

A new era is set to begin on Sunday 12th September 2021 $ADA pic.twitter.com/HrdrqYizhP

— Input Output (@InputOutputHK) August 17, 2021
In other words, expect ADA to rise as this date draws closer. It's cheap now, but it may not be cheap for long.
4. Dash (DASH)
Dash (DASH) has been something of a neglected cryptocurrency up until recently. However, after sinking as low as $115 on July 19, it has since climbed by 134%. It now stands at $270, having fallen by 2.5% in the past day. That said, it's up by 34% in a week, by 50% in two weeks, and by 92% in a month.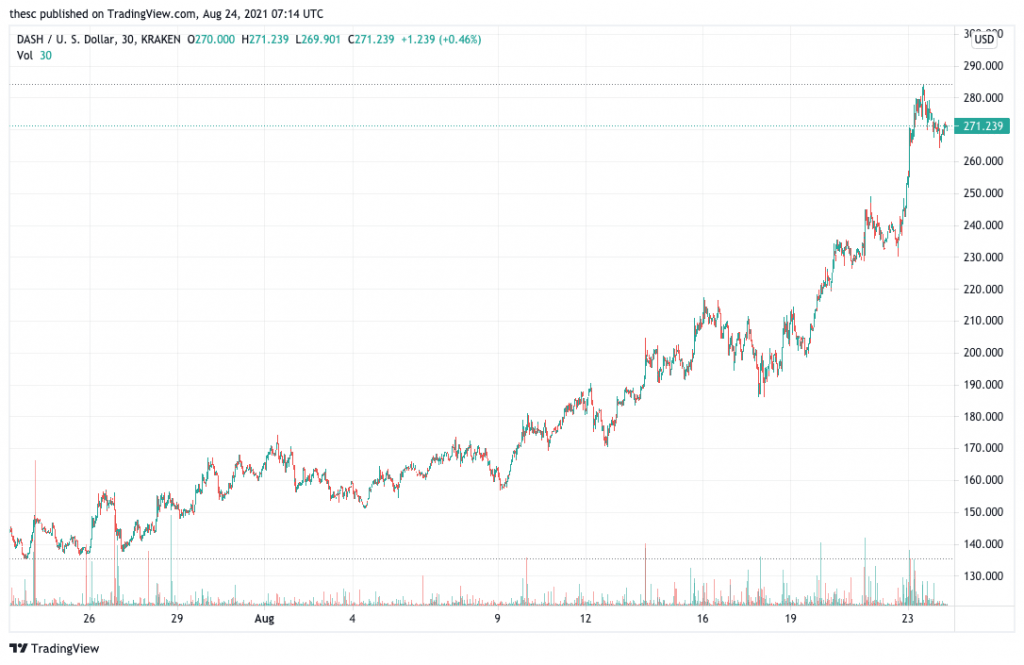 DASH is one of the rare major coins that hasn't broken its all-time high this year. Its current ATH of $1,493 was set on December 20, 2017. Nonetheless, while this makes DASH look like an under-performer, it also arguably gives it plenty of room to rise.
And in recent weeks, DASH has indeed suggested that it will rise further. Most notably, Dash announced the launch of a payment app, DashDirect, on July 27. This lets holders of DASH pay quickly and cheaply (in DASH) at around 155,000 merchant locations, mostly based in the United States.
A huge thank you to @Newsweek for helping us break the BIGGEST news in crypto payment history so far. Download our groundbreaking app today in the App Store and on Google Play. #dashdirect #dash #cryptocurrency https://t.co/UkYuR7IKnY

— Dash (@Dashpay) July 27, 2021
This more than anything else has helped drive DASH's recovery. That said, the cryptocurrency has also seen increased interest from investors. For example, Valkyrie Investments launched a fund exclusively for DASH on August 4, its third closed-end cryptocurrency fund.
5. Polygon (MATIC)
Polygon (MATIC) has had a better month after suffering over the past quarter. At $1.62, it's up by 13.8% over the past seven days and by 44% in the past fortnight. It has also surged by 70% in the past month, and is an impressive 6,300% up over the last 12 months.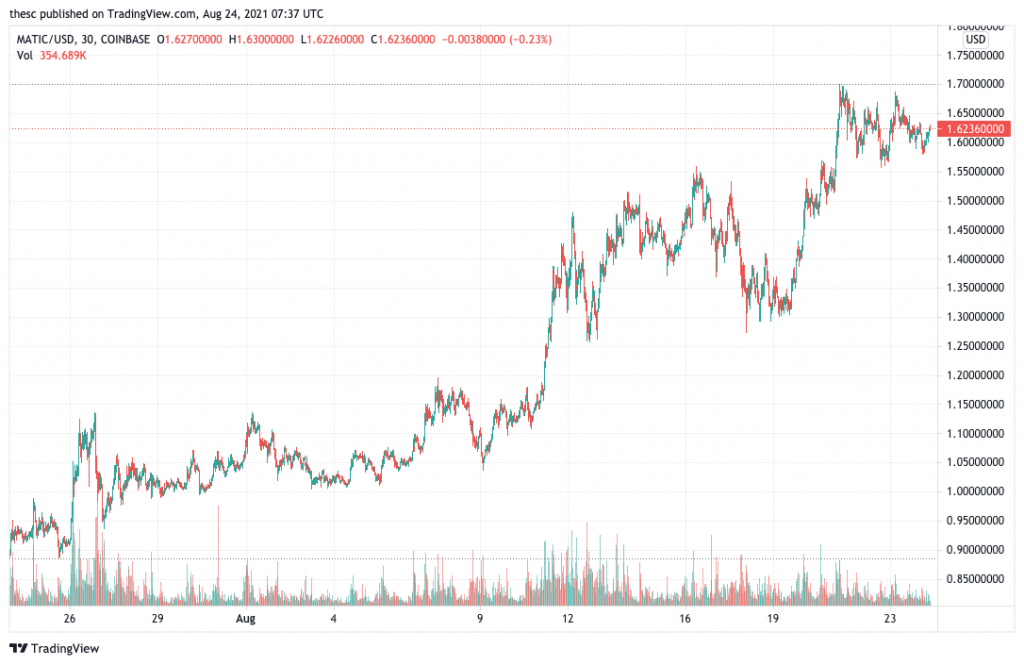 MATIC took a dip down to $1.27 after hackers breached the Poly Network on August 12 and stole $600 million in assorted cryptocurrencies. While the Poly Network is actually separate from Polygon itself, it's used to transfer assets between Polygon, Ethereum and Binance Smart Chain. As a result, the similarities in the name caused a dent in MATIC's price.
Fortunately, this dip was short-lived. Since then, MATIC's price has been buoyed by plans to launch a decentralised autonomous organisation (DAO) for DeFi purposes, as well as by Polygon's acquisition of layer-two scaling solution Hermez. It has also recently announced a new strategic focus on zero-knowledge scaling solutions, as well as a $1 billion pot to fund development into such solutions.
1/14 It is a big day for @0xPolygon!

We are announcing a strategic focus on ZK-based scaling solutions and $1B in funding for this effort.

As our first big foray into the exciting world of ZK, we are excited to announce the merger/acquisition of @hermez_network!

Thread.. pic.twitter.com/ayEjUEpSK6

— Polygon (@0xPolygon) August 13, 2021
Because of this, MATIC remains one of the 5 best cryptocurrency to buy at low prices.
67% of retail investor accounts lose money when trading CFDs with this provider