Bitcoin (BTC) Price Prediction: BTC/USD Retests the $60,000 Psychological Price Level, Unable To Push on the Upside
Bitcoin (BTC) Price Prediction – March 19, 2021
Yesterday, BTC/USD broke the $58,000 resistance and retested the $60,000 psychological price level but failed to sustain the bullish momentum above it. On March 13, the bulls broke the $60,000 price level but fail to sustain above the $62,000 resistance zone. Consequently, BTC price dropped to $54,000 support.
Resistance Levels: $58,000, $59,000, $60,000
Support Levels: $40,000, $39,000, $38,000
Following the rejection at the $60,000 high, the BTC price has fallen again below the $58,000 support level. The $58,000 support has been crucial to the resumption of the upside momentum. Bitcoin was in a downward correction for two weeks before the $58,000 resistance was breached. For the first time, the bulls crossed above the $60,000 high but could not sustain above the $62,000 resistance. Despite, a retest of the $60,000 psychological price level, Bitcoin has fallen below the $58,000 support. This implies that the bears have been defending the $60,000 high. The bottom line is that BTC/USD will only resume an uptrend when the resistances at $57,000 ad $58,000 are breached. Meanwhile, Bitcoin is trading at $57,471 at the time of writing.
Bitcoin's Price Moves by 1% after $93 Million Inflows, by Bank of America Strategists
According to the Bank of America research team, Bitcoin will require at least an in-flow of $93 million to move Bitcoin's price by one percent. The bank added that: "Bitcoin is extremely sensitive to increased dollar demand. We estimated a net inflow into Bitcoin of just $93 million would result in the price appreciation of 1%," the report concluded, adding: What has created the enormous upside pressure on Bitcoin prices in recent years and, particularly, in 2020? The simple answer: modest capital inflows."
By the bank estimation, Bitcoin is nearly $1.1 trillion by market capitalization which is equivalent to 10% of Gold. Bitcoin is twice as volatile as Gold despite the asset has been existing for nearly a dozen years. The research attributes the small cost needed to move the price of Bitcoin to heavy accumulation from whales diminishing the number of coins available for purchase on exchanges. The bank added that: "Looking at detailed blockchain records, we find that the largest addresses have not been selling in aggregate since the pandemic began,".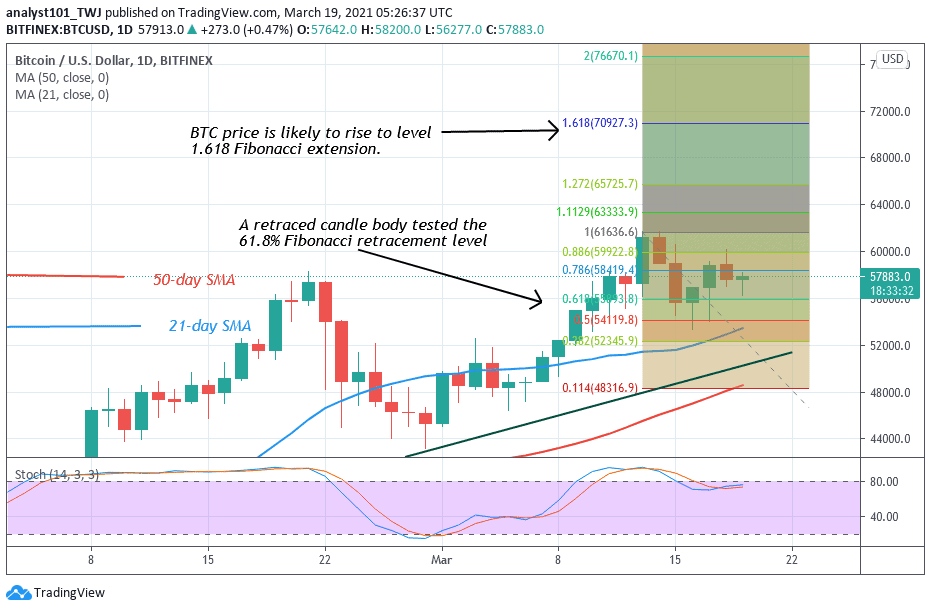 Bitcoin price is making another positive move to retest the $60,000 psychological price level. Yesterday, the bulls were rejected at the $60,000 high. The price indicator has indicated an upward movement of the coin. On March 13 uptrend; a retraced candle body tested the 61.8% Fibonacci retracement level. The retracement indicates that Bitcoin will rise to level 1.618 Fibonacci extensions or the high of $70,937.30.