Bitcoin Price Prediction: BTC/USD Makes Gradual Recovery above $13,040, Upside Momentum Likely
Bitcoin (BTC) Price Prediction – October 28, 2020
BTC/USD price is consolidating above $13,040 after the recent fall from the $13,800 resistance. The coin fell into the previous range bound zone between $12,800 and $13,200. BTC price has to break above the $13,200 to resume an upward move.
Resistance Levels: $13,000, $14,000, $15,000
Support Levels: $7,000, $6,000, $5,000
The recent high of $13,800 where BTC was resisted today was a historical price level of 2019. In 2019, the BTC price reached a peak price of $13,900 in July 2019. Today, if buyers have push BTC above this resistance, the market would have reached the $14,000 price level. The rejection has made the crypto to be range-bound between $13,040 and $13,800.
In this range, if the BTC price breaks the $13,800 resistance, the market will rally above the $14,000. On the other hand, if the bears break the $13,040 support, BTC will fall to either $11,400 or $11,900. Meanwhile, the bulls have recouped above the $13,040 price level as buyers resumed upward move. The current uptrend is likely to face the resistance zones of $13,300 to $13,500. A break above this resistance will accelerate price movement on the upside.
 Bitcoin Is Becoming Less-Risky as an Investment Option, by Novogratz
Mike Novogratz, the CEO of Galaxy Digital, indicated that investing big money into Bitcoin 10 years ago was fraught with uncertainty. Today, buying the asset carries less risk, but with more certainty. Recently, MicroStrategy has begun to invest large sums of money into the asset, normalizing its viability as an investment for some. In another development, Novogratz said: "I don't think Bitcoin is going to be used as a transactional currency any time in the next five years," Novogratz said in a with Bloomberg TV, posted on Oct. 23. "Bitcoin is being used as a store of value," he added. "People are worried that the central banks around the world are debasing fiat currencies."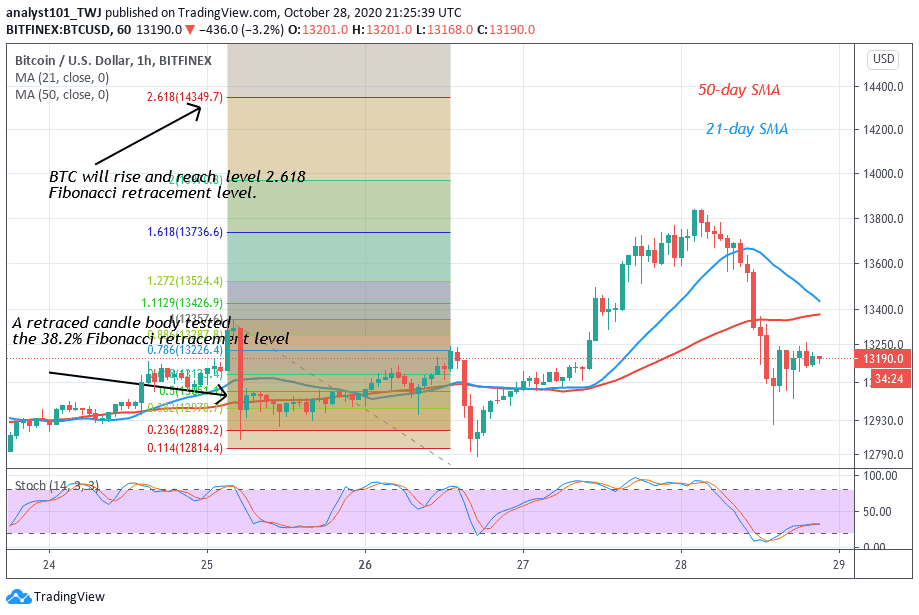 Meanwhile, the BTC price has risen to $13,279 at the time of writing. The bulls buy the dips as prices fell to the lower price range. The current move is to retest the $13,800 resistance to break above. However, where the bulls fail to break the current resistance, BTC will fall and be compelled to a sideways move between levels of $13,040 and $13.800.