Elon Musk Cryptocurrency 2022 Tweet – Is Dogecoin a Good Investment?
The year 2022 started with high hopes for DOGE as it witnessed another boom in the second week of January 2022. This was because the US Consumer Price Index report saw positive reactions of Bitcoin and altcoins.
The fact that Tesla CEO Elon Musk tweeted on 14 January 2022: "Tesla merch buyable with Dogecoin", the Dogecoin's price rose nearly 14% alone to $0.197. Musk had tweeted on 24 December 2021: "Tesla will make some merch buyable with Doge & see how it goes." The price of the coin then rose by 35% after this tweet. At the time of writing this report, the price of DOGE stands at $0.17 per coin.
Elon Musk Cryptocurrency Tweet on DOGE
Elon Musk Tweet on Dec 14, 2021
What are the prospects of Dogecoin as billionaire entrepreneurs like Elon Musk frequently mention its relevance and consider it as a potential currency to buy merch at Tesla?
Many investors are speculating its price rise based on the impact of the tweets of such influential people. Meme coins comprise a highly volatile sector and Dogecoin was the first one to be introduced.
In a Twitter popularity contest on 6 November 2021, DOGE lost to its rival Shiba Inu (SHIB) according to ICO Analytics. SHIB topped with 22% of the share and DOGE finished fifth with 4.8%. Some feel SHIB is a strong competitor to DOGE and could replace it in the future. Many do not consider DOGE as a store of value unlike other important cryptos like BTC. It can be used for transactions and does not have much value beyond that.
Is Dogecoin a Good Investment?
DOGE was launched as a joke, mocking the obsession of investors with cryptocurrencies. Its popularity led it to become an important cryptocurrency in the market and it paved the way for other "meme" coins to come to the surface.
It has gained immense popularity on social media ever since and had reached an all-time high of $0.74 in May 2021, which was a 15,653% from its price at the beginning of the year. After Elon Musk's response to the coin as a "hustle" on a US TV show, the price of the coin fell rapidly. Dogecoin price saw a continuous dip, dropping to $0.1607 in July.
Billionaire entrepreneurs like Mark Cuban have noted that people use Dogecoin to pay for goods and services. The Dallas Mavericks basketball team owned by Mark accepts Dogecoin and some other cryptos for buying tickets and merchandise. As per Cryptowerk's analysis, over 1,982 merchants, including shops, hotels, Internet services, gaming platforms, etc, use DOGE as a payment option.
In September 2021, Musk once again shared his opinion on DOGE and tweeted that its price should drop to make the coin viable for transactions like buying movie tickets.
Tesla had once introduced bitcoin payments and later halted it following concerns regarding the energy usage of bitcoin mining. As per the news, cinema chain AMC started accepting Dogecoin along with other cryptos that users can use to pay for digital gift cards.
In August 2021, the DOGE price rose to $0.3510, which dipped to $0.1945 in September 2021. Elon Musk's tweet on 4 October 2021 that had a photo of his puppy in a Tesla vehicle created some scope for the rise in the price of Shuba Inu dog-themed cryptos.
With a $22,058,694,301 market cap, Dogecoin stands at 11th position as of 18 January 2022 as per Coin Market Cap. In early December 2021, Dogecoin saw a slight boost in price after a technical problem at Binance, which lasted for two weeks, preventing users to withdraw Dogecoin. It led to 8,669,861,620 DOGE (worth $1.85bn) being traded in 24 hours, resulting in an 8% rise in its price.
At the time of writing this news post, more indicators are suggesting a bullish tendency for Dogecoin price and fewer indicators suggest a bearish tendency. With such analyses, the coin makes for a good short-term investment option.
Expert crypto analysts predict Dogecoin could pump beyond its all-time high of $0.74 and reach $1. For instance, Wallet Investor predicts DOGE price to reach $0.35 in one year and $1.14 in five years. Price Prediction predicts Dogecoin's average price of $0.25 in 2022, $0.77 in 2025, and $4.58 by the year 2030. DigitalCoin predicts DOGE price to reach an average of $0.27 in 2022, $0.42 in 2025, and $0.84 by 2029.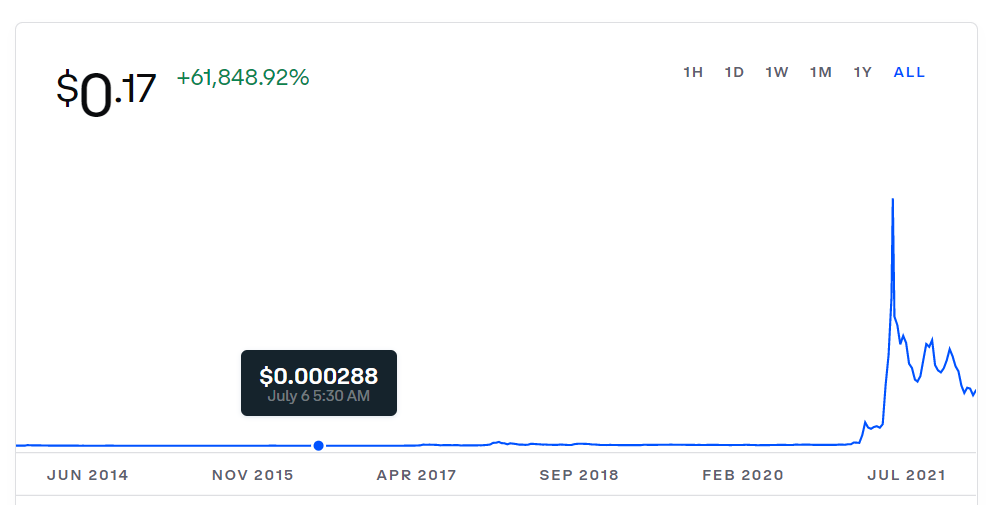 Dogecoin price growth on Coinbase
Dogecoin is a good short-term investment if you can time the market swings well. Upon doing that, you can buy the 'dips' and exit as you see a rise in price to make some profits. It may not be a good choice for a long-term investment. Bitcoin and altcoins like ETH are better investments if you are looking for a long-term holding. Many also feel that Dogecoin will be replaced by other meme coins like SHIB in the times to come.
For early investors buying DOGE in 2020 or earlier at a presale and around its launch in 2013, it has already risen by thousands of percent. The largest return on investment (ROI) with cryptocurrencies is made when you buy them at a presale rather than buying them after they have gained popularity and have been included on major crypto exchanges.
You must be aware of your financial standing to consider DOGE as a good investment. Although it is suggested as a favourable short-term investment, it comes with high risks. Evaluate the risk factors and prepare yourself before you buy any cryptocurrency, including Dogecoin. Invest only an amount that you are ready to lose.
Investors must remember that cryptocurrencies, especially meme coins have an extremely volatile nature and an accurate prediction of the price of these coins for the future remains challenging. We recommend that all investors carry out extensive market research, study the latest trends, technical analysis, news, and expert opinions before going ahead with an investment.
Invest in Dogecoin
Cryptoassets are a highly volatile unregulated investment product. No UK or EU investor protection.
Are altcoins a good investment?
Throughout the years, we have seen that many altcoin projects have had a brief bull cycle when they were launched and shifted back towards their ICO (Initial Coin Offering) or the presale price. We have seen such a tendency for coins like Icon (ICX), Wabi, Verge (XVG), Walton-chain (WTC), Dentacoin (DENT), etc.
Altcoins are considered good options for short-term investments to buy at an ICO or a presale, but they are not suitable for long-term investment options. This could differ for coins with strong fundamentals like Ethereum and Cardano.
One benefit of buying a new cryptocurrency at a presale is that the currency comes at a lower price. ICO targets large investors (whales) to invest in a crypto coin. By buying at a presale, you can also secure a stake in a crypto's total supply cap, which will mean more value for your holdings if the demand for that cryptocurrency increases.
Presale does come with its risks. For instance, if a presale campaign faces an issue or an announcement is not carried out as planned, you could end up losing all your funds. But buying altcoins at presale could earn you huge gains after the coins get listed on popular platforms like eToro, Binance, Coinbase, etc.
If we look at cryptocurrencies like Ethereum and Ripple, we saw that investors who bought these altcoins during the ICO for $0.001 per coin gained substantial profits when the price hit $2.50 or beyond in just two months after they were launched on an exchange. As an ICO investor, you get attractive bonuses and discounts at the pre-sale stage of an ICO. With higher discounts than an ICO's public sale stage, ICOs attract large investors.
How to Invest in a Cryptocurrency at a Presale?
To raise funds for their projects, many start-ups today use an ICO. It is a type of crowdfunding for companies that wish to launch a new cryptocurrency/ blockchain. Before participating in an ICO, analyze the risks carefully and understand how they work before buying a cryptocurrency at a presale.
To participate in an ICO, you need cryptocurrencies like Bitcoin or Ether as you cannot use fiat currency to participate. Register in a well-regulated platform like eToro and buy cryptocurrencies. After you complete this process, you can invest in a new cryptocurrency at a presale. When you choose a regulated exchange, you might have to go through its KYC process, which would ensure the safety and security of your funds.
Our recommendation for the best crypto to buy at a presale in 2022 is Lucky Block (LBLOCK). Users participating in traditional lotteries have witnessed many issues in recent years that decrease the games' functionality and fairness.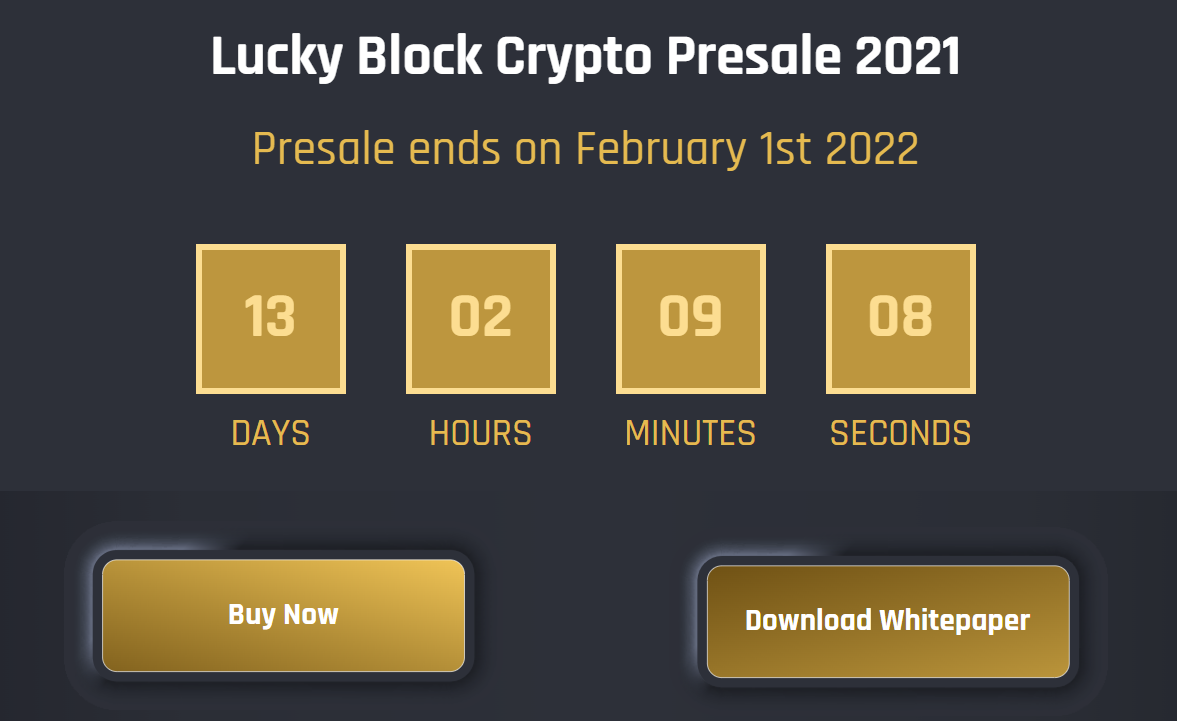 Lucky Block Online Platform
Lucky Block, with the objective of solving these issues, offers a 'crypto lottery', which is based on blockchain technology. Binance Smart Chain hosts the LuckyBlock platform. As all transactions are recorded on the public ledger, it enhances fairness and reduces the scope for fraud.
By removing geographical boundaries, it enables people from countries all over the globe to participate. Additionally, it cuts on the operating costs of traditional lotteries, which generates larger prize payouts and quickens the payout process.
You can buy Lucky Block tokens via the Lucky Block website and utilize the stellar tokenomics to your benefit, which includes a built-in 'burn rate', designed to enhance the value of the token with time. With these features, Lucky Block seems like a promising investment.
If you buy Lucky Block tokens through the presale, you get in early by paying an attractive price that is about 21% less than the launch price.
Invest in Lucky Block
Your capital is at risk.