Litecoin Price Prediction: LTC/USD Reverses Relatively Hit a Resistance Point Around the $320
LTC Price Prediction – April 18
The LTC/USD market operation, like many other crypto-trading instruments, has been also witnessing a risk of getting further dump from the current slight drop in its valuation.
LTC/USD Market
Key Levels:
Resistance levels: $320, $340, $360
Support levels: $200, $180, $160
LTCUSD – Daily Chart
As of writing, the LTC/USD daily trading chart showcases a significant drop along the previous path of a couple of bullish candlesticks to touch a lowly vital point around $240. Price is now slowly making a pull-up away northwardly from the trading value mentioned earlier. The 14-day SMA trend-line and the bullish trend-line are located at the vital level pointing to the north. The 50-day SMA indicators are pointing towards the south from the overbought region to signal a sell-move of the market.
Could a recent sudden drop in the LTC/USD mark the bullish turning point?
Even though the LTC/USD has experienced a notable price decline in valuation, the downward pressures feature with a quick return of reverses that give buyers some visible chances of taking decent entries during very active moves in the crypto-economy. In actual technical fact, bulls have to exert more power at the $300 level to be able to break out through some resistances ahead up to the higher points between $360 and $380 in the next bullish-run elongation.
On the contrary, as regards the prolongation of the LTC/USD market bullish trend, the bears have to make the best use of resistances between the $320 and $360 levels to make another come-back move. There is a tendency that price will see some barriers during the time of making more upsides in the market. However, placing of sell order needs precautionary trading techniques as the crypto-market is still very stronger in its upward trend.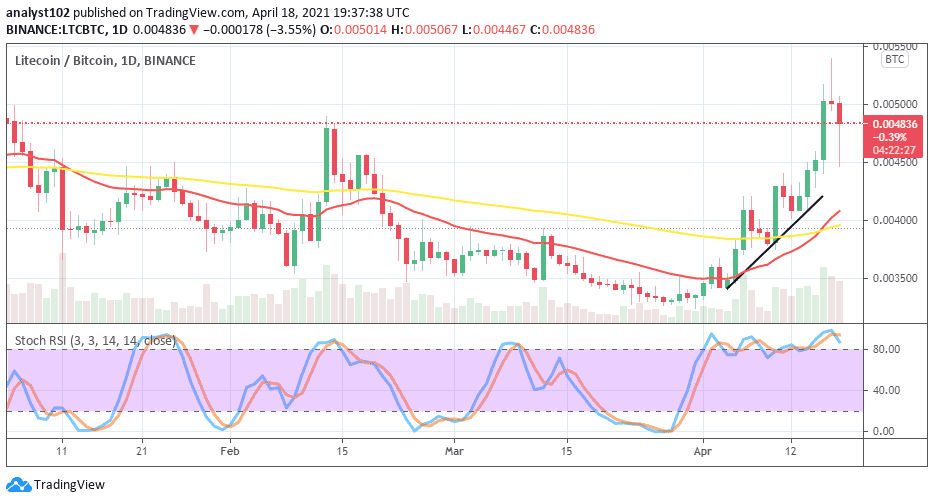 LTC/BTC Price Analysis
Taking a look at the market worth-position between LTC and BTC, it has been observed that the base crypto is now making a better edge as paired with the counter crypto in the crypto-trade. The 14-day SMA trend-line has intercepted the 50-day SMA indicator from below. And, they are pointing to the north with the bullish trend-line far below the current trading position of Litecoin against Bitcoin. The Stochastic Oscillators are in the overbought region strong consolidating in it to affirm the prevailing price weight of the base instrument over its counter tool as of writing.