5 Best New Cryptocurrency To Buy Now August 2021 Week 4
The cryptocurrency market has taken a step backwards after its recent gains. Its total value has declined by 3% in the past 24 hours, dropping from $2.2 trillion to $2.13 trillion. Bitcoin has been the leader of this drop, with its fall of 2% causing other major coins to decline by similar or larger percentages. However, a number of younger coins are bucking the overall trend, either by rising during the downturn or not falling as hard. Accordingly, we've put together a list of the 5 best new cryptocurrency to buy now. This mostly covers coins that are less than a year old.
5 Best New Cryptocurrency To Buy Now
1. Avalance (AVAX)
Avalanche (AVAX) is out-performing every other major coin right now. While most of the top 50 has declined by anything from 2% to 10% over the past 24 hours, it has risen by 10%. It now stands at $53.49, representing an impressive 126.4% jump over the past week. It has also appreciated by 224.8% in the last fortnight and by 373.3% in the past month.
AVAX is still waiting to pass the all-time high of $59.40 it set in February. But with it still rising high despite today's climbdown, it's surely only a matter of time before it does this. Not least because it has a fixed supply and burns its transaction fees.
Aside from its deflationary economics, possibly the biggest factor in its recent rise is the launch of Avalanche Rush on August 18. A liquidity mining incentive programme, it rewards users with AVAX for providing liquidity to DeFi pools. Given that Aave and Curve are collaborating with Ava Labs on it, it has resulted in an influx of new users. And more users means more demand for AVAX.
Experience the power of #Avalanche. Welcome to #AvalancheRush, the $180M liquidity mining incentive program in collaboration with leading DeFi dapps–both on and off Avalanche– starting with @aaveaave and @curvefinance. And, this is just Phase 1! https://t.co/YGrrVB7Uqc

— Avalanche (@avalancheavax) August 18, 2021
Another source of new users and new demand is Avalanche Bridge. This is a protocol that lets users transfer their assets between Avalanche and Ethereum, providing a more efficient and cost-effective experience than its predecessor, Avalanche Ethereum Bridge. It now facilitates the transfer of $100 million in tokens per day, having launched only three weeks ago.
The Avalanche Bridge (AB) launched just 3 weeks ago.

Today, AB officially transferred over $100M in tokens to and from Ethereum.

Interested in using high-performance DeFi apps, with low transaction fees? Transfer your assets, and try #Avalanche DeFi! https://t.co/UAY69mSUgW pic.twitter.com/FrN69Ev7pA

— Avalanche (@avalancheavax) August 19, 2021
2. SuperRare (RARE)
It may be only the 191st coin by market cap (right now), but SuperRare (RARE) is going places. As of writing, it broke its all-time high two hours ago, hitting $2.42. It has since retraced its steps down to $2.27. Nonetheless, this is a 37% rise in the past 24 hours, and a 286% rise in the last week.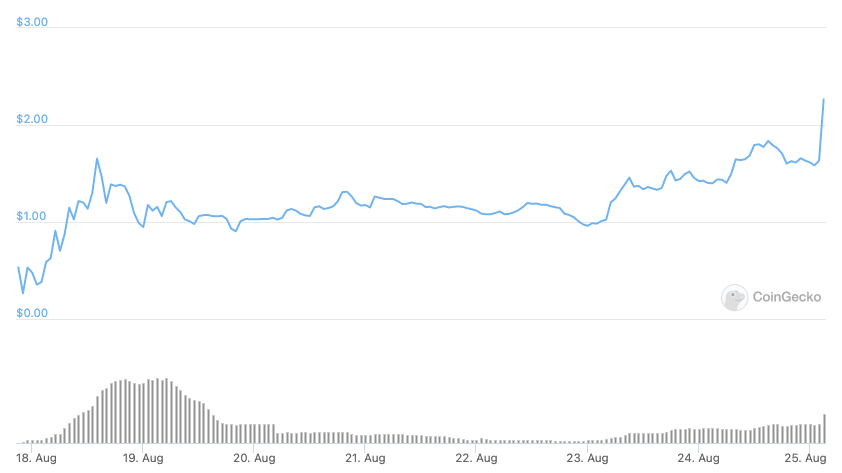 NFT platform SuperRare launched its RARE token only eight days ago. Because of the general popularity of NFTs, and because of SuperRare's position as one of the leading NFT platforms, RARE quickly shot up the rankings. Seeing as how it rose by 37% when almost everything else was plunging, it's likely to continuing rise for a little while yet.
Introducing $RARE

A revolution in NFT art curation
Community owned and governed
Diverse curatorial voices

We're putting the future of SuperRare and the power of curation into the hands of our community.

Find out how https://t.co/lgqUqhFzFO pic.twitter.com/VgX3LEOLrx

— SuperRare (@SuperRare) August 17, 2021
RARE is a governance and curation token. It grants holders the ability to vote not only on governance proposals, but on which artworks are released via SuperRare.
Given that SuperRare is currently the sixth biggest NFT marketplace, it could get very big. This is why it's one of the 5 best new cryptocurrency to buy now.
3. My Neighbor Alice (ALICE)
My Neighbor Alice (ALICE) is one of the most exciting gaming tokens out right now. At $17.40, it's up by 1% in the past 24 hours, which is impressive insofar as much bigger coins have fallen over this period. It's also up by 39.8% in the last week and by 48.4% in the past 30 days.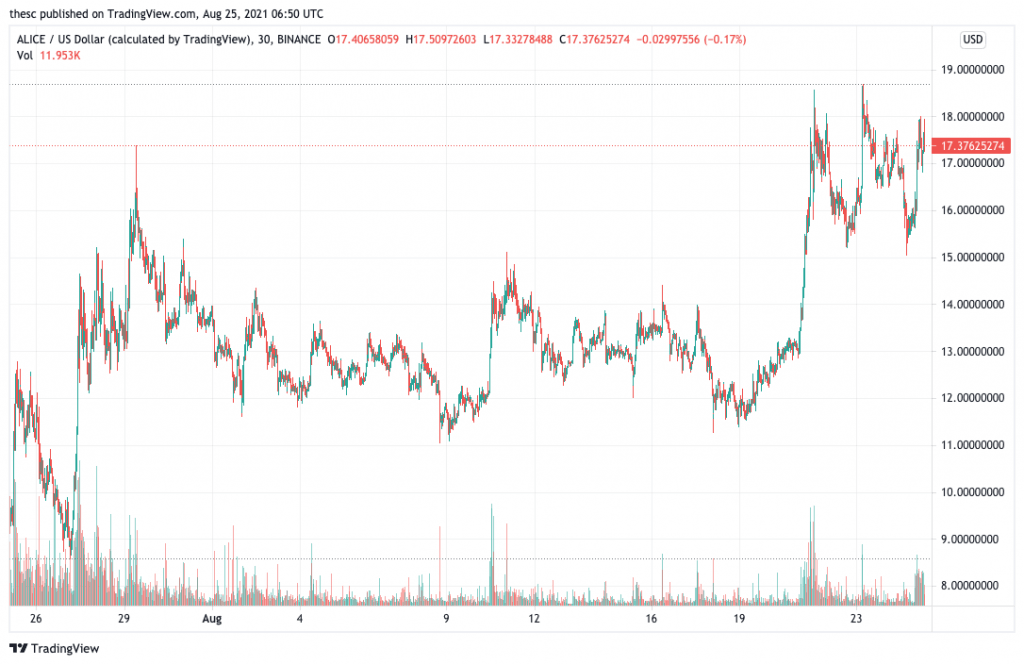 It is, however, some 57% away from its all-time high of $40.93. Still, because it's the token of an actually viable product — a world-building game like Minecraft or Second Life — it has a very good chance of beating its record high.
In support of this view is the fact that the game's popularity continues to rise. Having passed 100,000 social media followers (on Twitter and Telegram combined), it recently passed 100,000 followers on Twitter alone.
WOW! Thank you to our 1⃣0⃣0⃣K followers

We look forward to building this community even stronger towards building the best blockchain builder game there will ever be. Cheers and hugs!

From Team Alice pic.twitter.com/G4yToEb9wP

— Alice (@MyNeighborAlice) August 23, 2021
The game has also witnessed a highly successful sale of NFTs on the BinanceNFT platform. It sold out of 40,000 "Mystery Baskets" of game-related NFTs in a matter of seconds, indicating its growing popularity.
Our Midsummer NFTs on @TheBinanceNFT – Sold Out in Seconds!

We are just overwhelmed with the excitement around the game.

On behalf of Team Alice, congrats to all basket winners and offer our condolences to the many people who missed out.

https://t.co/g3BPRU1kQp pic.twitter.com/gyS3kJ6oz0

— Alice (@MyNeighborAlice) August 9, 2021
4. Shiba Inu (SHIB)
Since hitting an all-time low of $0.000000000056 in November, Shiba Inu has risen by 13,648,605%. This is possibly the biggest appreciation enjoyed by any cryptocurrency in the top 50. However, SHIB has fallen by 6% over the past 24 hours, along with most of the market. This puts it at $0.00000769, which represents only a 1% gain over the past fortnight and a 20% gain over the past month.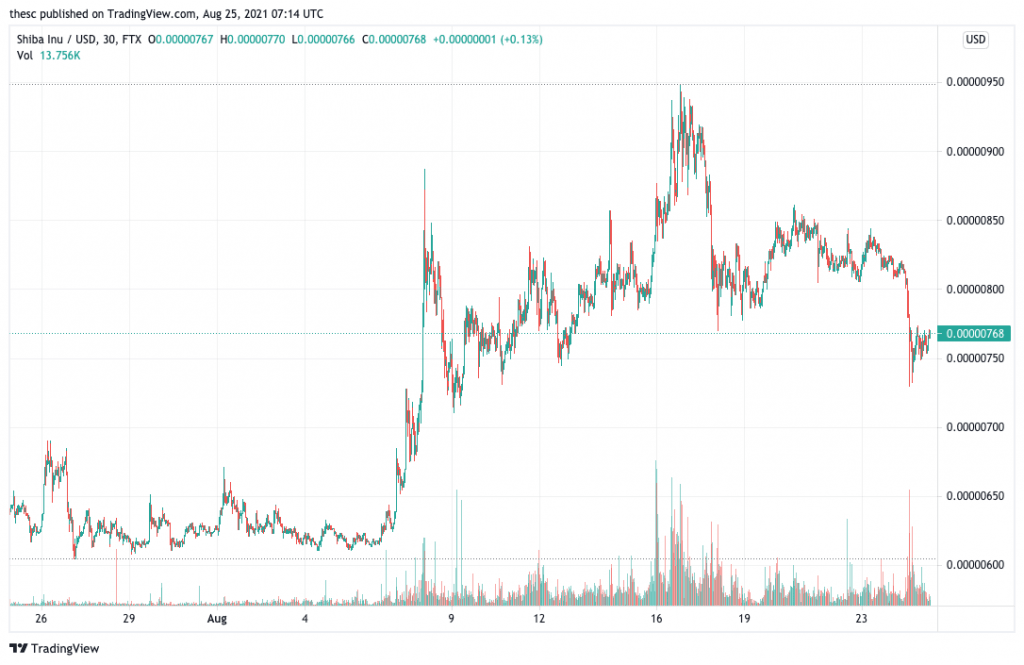 That said, SHIB is up by 6,592,142% in the past year. This highlights the coin's potential for explosive growth.
While SHIB has been around since the end of last year, it really only took off in May. This was when Ethereum founder Vitalik Buterin (who held 50% of SHIB's supply) gave some 50 trillion SHIB tokens to charity. He then announced he would burn the remaining 90% of his holdings.
This sent SHIB rocketing upwards, gaining more than 2,000% in just over a week. Since then it has subsided. However, the launch of the ShibaSwap exchange in early July has helped it regain some of its former momentum.
5. Polygon (MATIC)
Polygon (MATIC) hasn't escaped the selloff that's hit most of the market today. At $1.52, it's down by 6.5% in the last 24 hours. That said, it's still up by 12% in the last week, by 31% in the past fortnight and by 61% in the past 30 days. It has also grown by 5,300% in the last 12 months.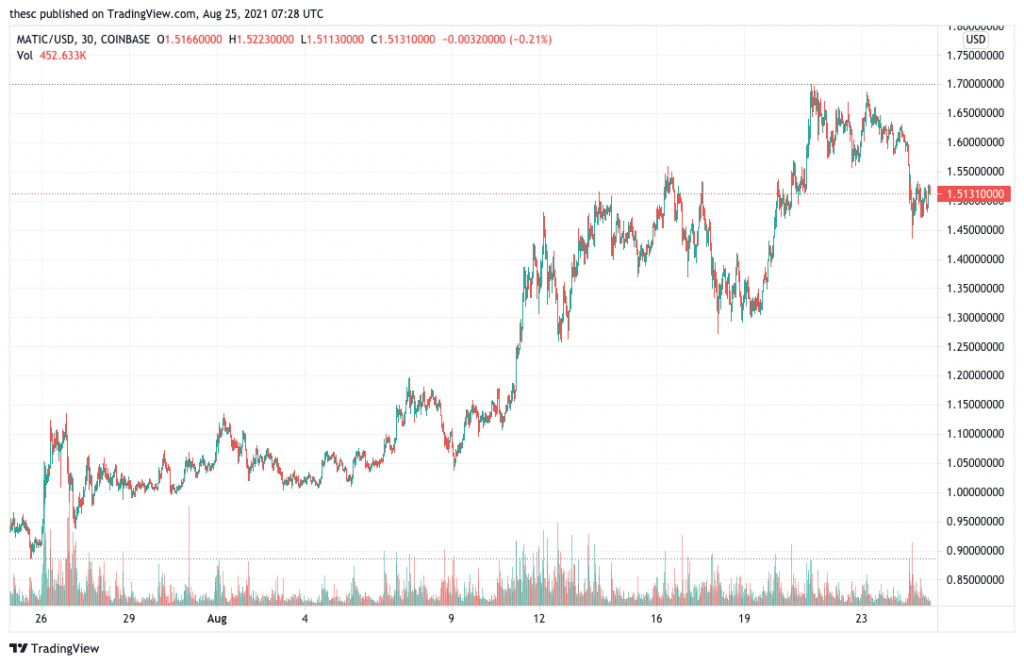 MATIC has been one of the best-performing cryptocurrencies over the past year, so there's every chance it will bounce back strongly from the recent dip. As a layer-two scaling chain compatible with Ethereum, it occupies a privileged place within the ecosystem. It has also benefitted from positive news in recent weeks, which will likely help it rise in the not-too distant future.
For one, it announced plans recently to launch decentralised autonomous organisation (DAO) for DeFi purposes. Along with news that it had acquired rival layer-two scaling solution Hermez, this helped push it higher in recent weeks. On August 13, it also announced a focus on developing zero-knowledge scaling solutions, which would be supported by $1 billion in funding.
1/14 It is a big day for @0xPolygon!

We are announcing a strategic focus on ZK-based scaling solutions and $1B in funding for this effort.

As our first big foray into the exciting world of ZK, we are excited to announce the merger/acquisition of @hermez_network!

Thread.. pic.twitter.com/ayEjUEpSK6

— Polygon (@0xPolygon) August 13, 2021
At the moment, Polygon boasts some $10 billion in total value locked in. This is up from $7 billion a month ago, and up from less than $2 billion in late April. It's largely because of this steady growth that we've chosen MATIC as one of the 5 best new cryptocurrency to buy.
67% of retail investor accounts lose money when trading CFDs with this provider